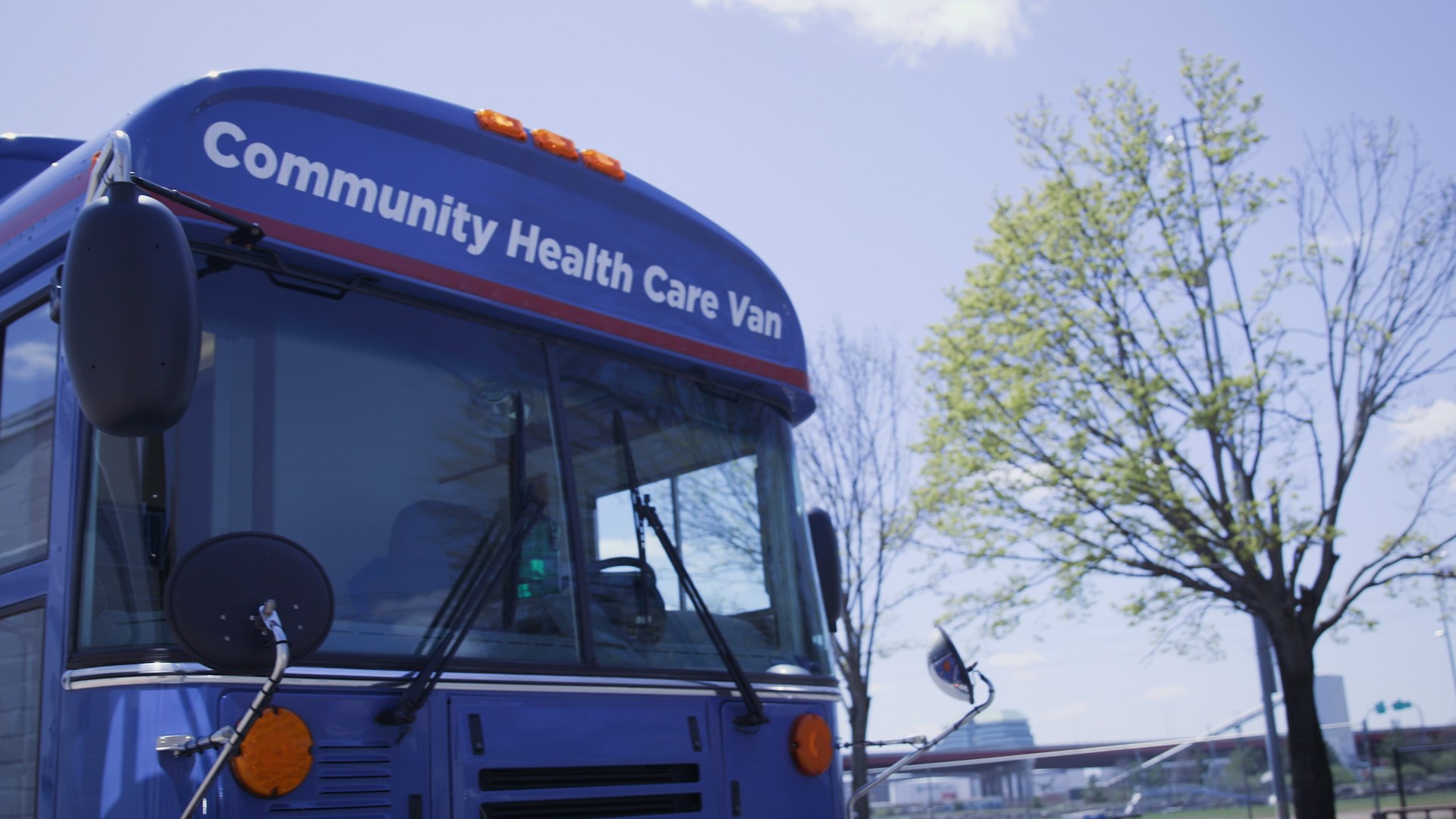 The Community Health Care Van has been around since 1993, and is a familiar sight in New Haven. A big, blue, converted school bus, it's often parked near The Green in downtown New Haven. Originally started as a way to combat HIV, hepatitis, and other infectious diseases, the van offers a clean needle exchange program, primary care, health education, counseling for mental health and substance abuse, and other services.
But in March 2020 when COVID-19 swept through the world, forcing people to stay home and businesses to close, the van was affected, too: it wasn't possible to continue to provide care to several people on the van at once, in close proximity to one another. In the first weeks of the pandemic, the big blue bus stopped going out, and instead, the team operated through a small minivan which they could easily drive around the New Haven area, distributing masks, sanitary supplies, and educational materials. At the same time, providing care and outreach to underserved, often uninsured communities was more urgent than ever.
Mounting evidence showed that the same vulnerable areas of New Haven that were served by the Community Health Care Van were also the neighborhoods being hit hardest by COVID-19. "There's a number of things that have been recommended, such as physical distancing, sheltering in place, and all of those sorts of things, but for marginalized populations, it's much harder to do that," says Rick Altice, MD, director of the Community Health Care Van and professor of medicine (infectious diseases). In other words, isolating oneself is a luxury many people simply can't afford, either because they live with several other people, must continue working outside the home, or rely on public transit to get around. Meanwhile, Leslie Sude, MD, assistant professor of pediatrics, noticed another worrying trend: mothers weren't coming in with their newborn babies for checkup visits, either because they were afraid of going into a clinic or because they didn't have a way to get to their appointments. "I got involved with the Community Health Care Van early in the pandemic," says Sude. "I was looking for a way to see babies in the community."
"The department of pediatrics reached out to us to ask if we could repurpose the van for a new purpose," explains Sharon Joslin, APRN. Lynn Tanoue, MD, MBA, vice-chair for clinical affairs in the Department of Internal Medicine, submitted an application an emergent award for the Community Health Care Van from the Yale New Haven Hospital Medical Staff Finance Committee. It was unanimously approved for a $50,000 award, and was matched for another $50,000, resulting in a donation of $100,000 to get the van back on the road, with a focus on serving newborns and their mothers during the pandemic.
"It's a great coming together of many giving hands," says Tanoue, highlighting the fact that the van would be equipped with masks donated by faculty—some of which were manufactured by the Yale School of Drama. "This is not only about providing care to people who need care, and might avoid seeking that care," says Sude, "this is about doing our part in a small way, one piece of the puzzle, to stop community spread of coronavirus."
Submitted by Jill Max on May 19, 2020